domainIQ
domainIQ was created to solve the complex problem of finding detailed information about a particular domain name, registrant, web site or server and to present the information in a meaningful and easy to understand format.
To do this, we gather the best data, and assemble it in the most intelligent way possible. Our reporting infrastructure stores and processes billions of data points from a wide variety of sources and uses it to generate reports that are unmatched in depth, detail and accuracy.
Our easy to use and flexible reporting tools allow you to generate comprehensive reports, instantly, and at a fraction of the price charged by competitors.
The reporting and visualization tools offered on domainIQ are unique to our service and not available on any competing site.
---
Practical Applications
Practical applications for our data and tools vary by industry. Here are just a few examples:
Cybercrime Investigation

Whether you're investigating a denial-of-service attack, brand abuse, spam or data theft, every online attack leaves a trail of evidence. domainIQ's forensic tools help you understand the scope of online criminal activity and identify the perpetrators.

Brand Protection

Proactively and automatically monitor and protect your intellectual property with our powerful domain, DNS and server monitoring tools. Get notified of suspicious behavior as soon as it is detected and take immediate action.

Domain Investor Tools

Learn everything about your competitors, their portfolio, registration strategy and emulate their success. WIth our powerful portfolio reporting tools, competitive information is just a click away. Research domains before you buy them to ensure they are not hijacked.

Asset Management

Discover domain names you never knew you owned with our reverse whois tool. Simply provide a domain, email or name and we'll dig deep to find all domain names owned by you or your organization.

Counter-Terrorism

Monitor potential threats to national security with geo-targeted domain, DNS and web site tools. Track IPs by region, usage or ISP. Track web sites, servers, and IPs of potential threats and download entire website snapshots going back 5 years.
---
Ready for a test drive?
Checkout some of our most popular tools:
We look forward to serving you. If you have any questions, please contact us.
---
About the Company
domainIQ is operated by Intelium Corp., a Chicago-based software company with over a decade of experience creating world-class software and services for the domain name industry.
Our tools and services are trusted by over 100,000 customers worldwide, including government agencies, Fortune 500 companies, domain investors, registrars and law firms.
Customer trust, integrity and honesty are the core values of our business. We take great pride in creating quality software that helps our customers solve complex problems and increase efficiency.
Some of our widely used products and services include:
Feature Highlights
Tour »
Domain Reports
A comprehensive view of the information surrounding a domain name and its owner. Get current and past ownership details, identify a domain's hosting providers and its SEO ranking and explore other associated domains using visual or textual tools.
---
Tour »
Email and Name Reports
Look up any email address or registrant name and identify associated domains, both current and past. Explore a portfolio across a wide range of data points.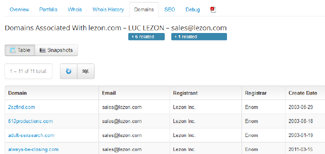 Sample view of the Reverse Domain Lookup tab
---
Go »
Monitoring Tools
We offer the ability to monitor domains, email addresses, registrant names and DNS servers for changes. Monitoring is completely automated and changes are reported to you daily.

Sample view of the Monitoring tool
---
Registrant Address Filtering
Our name reports can be narrowed down to a specific name and address, helping to remove ambiguity and identify the specific domains associated with generic or vague registrant names (e.g. "Domain Administrator"). You can also use the Nearby Domains feature in any Domain or Name report to view a street map showing the density of domain registrations in the vicinity.

Sample view of the Domains Nearby section